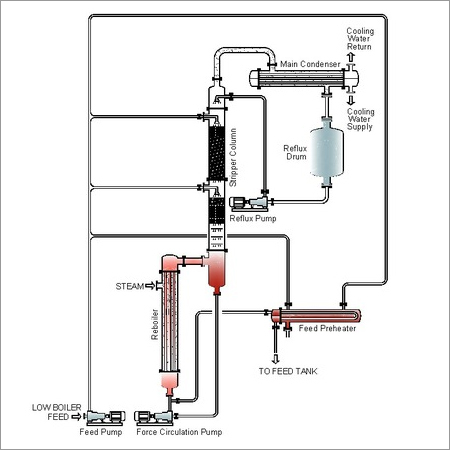 Stripping Column
Product Code : Stripping Column
Product Description
What is Stripping and how it works ?
Stripping is a process of physical separation where one or more parts are removed from a fluid stream from a vapor course. The effluents used in chemical and pharmaceutical industries, contain a high amount of COD due to assorted solvent utilized in this process. The solutions can be classified as high & low boil solvents. Solvent stream in particular is not activated in conventional ETP nor it moves through RO system. It is taken straightaway to MEE. But, if such effluent with ample quantity of COD is fed instantly to MEE/evaporator system, then it can affect the overall actions of ZLD system. On utilization of heat low solvent vapors that leaks along with water vapors, it takes considerable heat transfer area that is available for evaporation. The gases are of reduced heat transfer coefficient and hence importantly affect the plant-capacity. Higher COD and high pH in feed causes impurity of condensate water and then handling such kind of water becomes a great trouble for the industries.
Stripping Column
It is a particular system that is set up to take away low boils such as methanol, ethanol etc from effluent supply as low as 0.5% so that MEE working can be done without trouble. Offered stripping column efficaciously utilize the waste heat and a sequence with MEE so as to take down the steam intake. Based on the characteristics and nature of the effluent feed, assorted kinds of packing is utilized in the stripping column such as structured, random, tray type etc. Stripped out effluent is gathered at the bottom of column and is taken to MEE for additional concentrations, which is then delivered to an appropriate dryer so as to acquire dry powder as per PCB standards. Stripped out solvent is accumulated in distillate tanks and afterward used for further procedures.
Features :
Column is accordingly designed so as to manage the high TDS feed.
Structured arrangement, random packing as well as plate designs are proffered.
Applications
Recovery of pricey solutions from effluents.
Insure the compliance of air pollution.
Diminution of COD in recovered condensate / effluents.
Contact Us
501, 5th floor, Dosti Pinnacle, Plot No. E/7, Road No. 22, Wagle Estate, Thane (W), Thane, Maharashtra, 400604, India
Phone :+917042532709