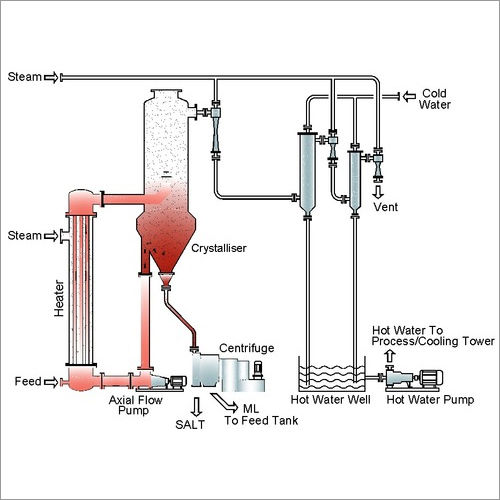 Glauber's Salt
Product Code : SALT
Product Description
Textile effluents are a mix of various dye effluents & salts. In some cases , they contain a major part of
Sodium sulphate .This salt can be separated by crystallizing by adiabatic cooling.
Since crystallizing is a purification process, the salt formed by this is pure (without any other salt or colour).
The salt which is also known as Glauber's Salt (Na2 So4. 10H2O) is a hydrated salt which is used in the
Dyeing process in textile mills. This also has a good sale value.
The process involves concentrating the effluent containing Sodium Sulphate to the concentration of 20-25% strength.
This concentration is then chilled in a crystallizer up to a temperature of 10-12°C. At this temperature
Glauber s Salt starts crystallizing out of the solution in form of odorless crystals leaving behind ML of 14-15%.
The slurry inside the cryst is evenly circulated with help of an axial flow pump, which helps in controlled nucleation & growth rate. This avoids choking or uneven salt crystal sizes making it easier to recover.
The crystallizer is designed for continuous operation, by pumping the chilled slurry to a pusher centrifuge which is use to separate the salt from the colored mother liquid . This is either taken to the feed or the solar pond depending on the amount of impurities present in feed .
Contact Us
501, 5th floor, Dosti Pinnacle, Plot No. E/7, Road No. 22, Wagle Estate, Thane (W), Thane, Maharashtra, 400604, India
Phone :+917042532709