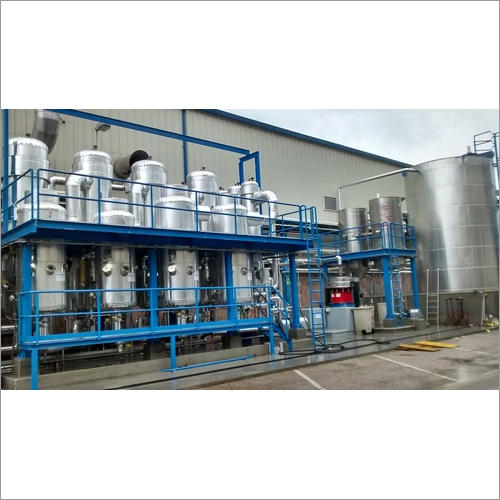 Caustic Recovery Plant (CRP)
Product Code : CRP-3
Product Description
Introduction
With universal market enclosing up managing beneficial development in such commercial place is continually becoming test, where competition is solid and it will influence edges in normal. In such circumstance, one needs to begin thinking once more on different benefit making roads that were being disregarded in better circumstances. The perfect method for taking a gander at it is fundamentally taking a gander at factors to spare wastages of different assets and recuperate it gainfully wherever conceivable.

Our company is being in the trailblazer in recuperation from squander for as long as 40 years providing different undertakings, for example, caustic recovery plant or caustic recovery system, salt recovery and heat recovery systems.

Explanation
Mercerizes for clothing mills produce weaken acidic that if depleted to wastage treatment plant, will make extensive issues in suiting the ecological guidelines. Feeble lye through mercerizes (over 4-6 be) without CRP must be proceeded to ETP where it must be stabilized with expansion of enormous measure of corrosive. This ensues in increment in TDS and damaging the working of ETP representing an extraordinary test to the clothing business. Our caustic soda recovery plant or caustic recovery system by making wash as well as applying the similar back in Merceriser is the main doable concentration.

Principal of Working
Under our system, caustic at least solution is heated to the breaking point with the assistance of a thermal source; the vapors produced because of bubbling are utilized to heat the powerless . This hot fluid is flashed at least stress as well as the vapors so produced utilized once more. The frail is solutioned to 250-300 gpl as if there should be 450-500 gpl or a dry merceriser in matter of damp merceriser that can be recycled with a small topping of acidic.

Operations
Powerless Caustic lye, over 5-6 Be (40 - 50 gpl), is gathered from the washing and impregnation load into a capacity tank. It is taken towards filtration unit to channel the suspended fluff, solids and more. Feed to CRP goes through a progression of preheaters that preheat the wash with flash vapors through the condensate flashes guaranteeing least steam damage in the wash heating to its breaking point. in the tubes interacts with the steam in the shell side of radiator 1 and the fluid begins bubbling. The vapor fluid blend penetrates the flash vessel via a digressive passage and the vapors get isolated and penetrate into the secondary stage shell. The bubbling in the progressive impact happens because of least stress made with vacuum pump of water ring. Because of lower stress, the breaking point of the liquid is lessened and it begins bubbling. The solution of fluid penetrates the secondary heater because of the stress distinction and comes in roundabout contact with the created vapors and a similar system is rehashed. The diluted item is expelled from the final stage by an item pump. After that, it is taken either to a Concentrated Lye sanitization system or capacity tank.

Under our plant, vapors produced at the final stage is condensed, which is performed by either adiabatic evaporator or hot water system. When hot water system is deployed, water at normal temperature is gone through exchanger pipes and becomes hot because of vapors. The hot water is non-pollutant and therefore, can be protectively deployed in the boiler or the procedure as demanded.

In several instances, where hot water produced cannot be successfully contained, the waste is traveled through the sprayer and exchanger in adiabatic evaporator. In vapors form lost waste is heated. Therefore, successful steam usage of steam is minimized. Additionally, annoyance of abundance hot water is removed.

Application
Under our caustic recovery system, caustic solution has usages in every business where concentrated caustic is generated because of washing as well as the diluted fluid can be recycled. Numerous usages where caustic is recycled are:

Weave mercerizing
It ordinarily has not very many polluting influences, for example, size, starch and thus the reused acidic is likewise unadulterated. The reused caustic can be recycled for a more extended timeframe prior to the combined polluting influences achieve inadmissible levels.

Grey Mercerizing
It possesses part of size in the feeble fluid and thus the reused acidic must be supplanted habitually. Additionally cause of sizing quantity and material is generally obscure. The recuperated caustic being thick and least gpl must be processed to turn it utilitarian. This recouped caustic again must be dossed with new acidic to keep up its gpl.

Scope of Supply
Our company provides plant on genuinely turnkey premise with no concealed extensions. Cleansing systems, filters and pumps are altogether incorporated into the deal while most contenders request that customer get it as discretionary secondary material or get it produced nearby according to their determinations at customers cost.

Further, our company is so certain of its proclaims that we are among the initial one to have given the caustic recuperation plant with an information procurement system where every output and input of plant are associated via sensors to a PC that record all defaults and parameters as well as can give the information either present or history in text format or graphical format. The information can be exchanged to format of excel and the financial matters of our plant can be operated every day.
Contact Us
501, 5th floor, Dosti Pinnacle, Plot No. E/7, Road No. 22, Wagle Estate, Thane (W), Thane, Maharashtra, 400604, India
Phone :+917042532709