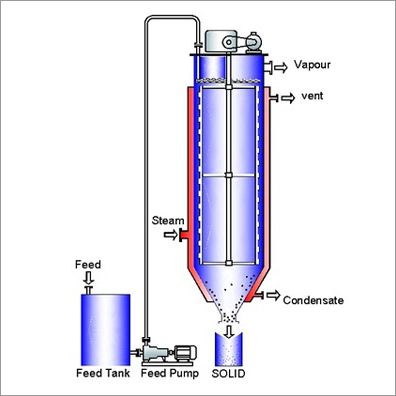 Agitated Thin Film Dryer (ATFD)
Product Code : ATFD
Product Description
EXPLANATION

One of the fastest method which is considered for drying variety of pastes, solutions and slurries is the Spray Dryer. For fast drying of the solution, the liquid is first atomized into fine droplets by passing hot air current. Surface area gets expanded by the process of atomization which is used for transferring mass and heat that occurs on the droplet surface which results in faster drying. Such dryers also requires less assembly and downtime so that it can be easily inspected and maintained. Because of these reasons, the mentioned Agitated thin film dryer (ATFD) is and ideal choice for the following:
Enclosed operations that guarantee purity
For the material that are sensitive to heat
In order to produce products continuous without any interruption
Operations that require excellent heat conductivity

Industrial Spray Drying – PRINCIPLE

While the hot air is entered from the base of the spray dryer, the process of atomization is carried out at its top. This only happens in the flow system of the counter current. At the bottom, when the liquid gets dried, it is removed from there by ensuring higher heat economy. However, the product which has been dried in exposed to degradation and heating.

The danger of exposing the final dried product to heating and degradation is easily minimized by the co-current system. Although, atomized material interacts with the hot air, yet temperature of the material is always less than the wet bulb air temperature. Height of the dryer is made high so that sufficient time can be provided for contact.

Industrial Spray Drying – OPERATION

Hot air generator helps in producing hot air by using diesel, or CNG or any other fuel. For removing the black smoke present in the chimney, the hot air is firstly passed into it and later infused into the chamber where spray drying takes place. Atomizer helps in introducing the feed into that chamber after obtaining the desired temperature at the spray dryer. The moisture is completely removed from the material which is fed after interaction of hot air to the atomized particles.

Industrial Spray Drying -APPLICATION

Because of the inherent features of its design, this find usage for treating the solution, the products that are sensitive to heat and in the application that require less temperature and vacuum for the operations. Other applications of our offered product include food, ceramics, slurries, plastics, soaps, tannins, etc.


Contact Us
501, 5th floor, Dosti Pinnacle, Plot No. E/7, Road No. 22, Wagle Estate, Thane (W), Thane, Maharashtra, 400604, India
Phone :+917042532709